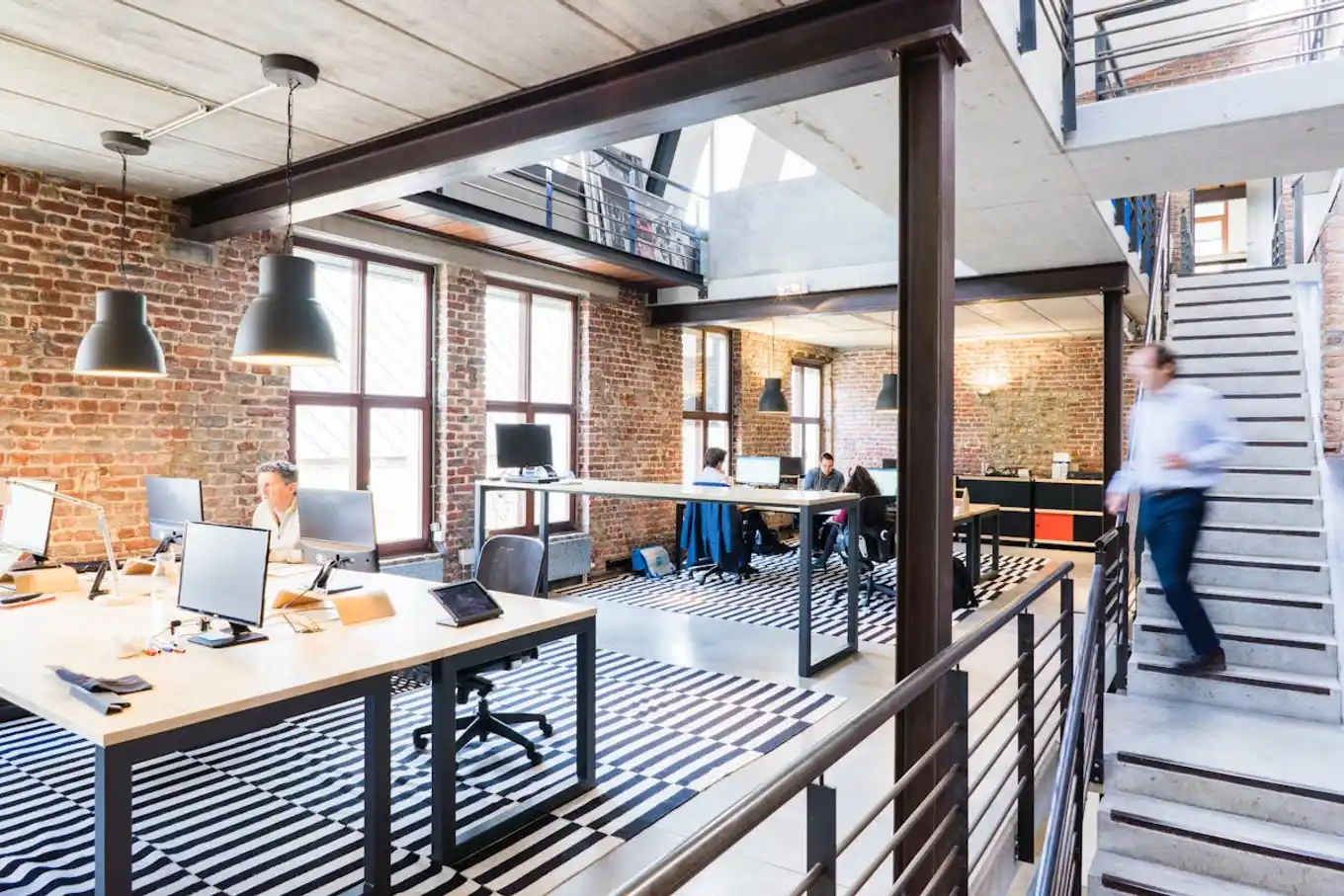 Do you have an office building or office space to sell or rent? Do you need a valuation of an office building for tax purposes or insurance? Are you confused about how much to value your office building for these purposes? This article guides you on how to determine the value of a commercial office building. An office building is one of the four subcategories of commercial buildings aside from industrial, retail and multi-family or apartment buildings.
Not all offices are commercial as some people create office spaces in their homes which are not intended for sale separately or for rental purposes. Such offices cannot be classified as commercial office buildings. We focus on office buildings for sale or rental purposes in this article.
What is a commercial office building?
A commercial office building is a property used by professionals in
business
education
dental
medicine
security
and all other fields
These buildings are mostly for administration purposes and consultation. Office buildings are used in generating income either through rental or capital gains.
The cost of having an office building is expensed against the revenue generated from business operations.
Office buildings are used for office purposes. Such purposes include the following:
clerical
administration
money handling
computer services
telegraph
telephone services etc.
Clerical purposes may also be bookkeeping ››› writing ››› papers sorting ››› filing ››› typing duplicating ››› engaging in editorial purposes etc.
Several industries create offices for these administrations and clerical works sometimes either
at the place of their main operations or
in cities or places far away from their major business activity.
Some of these firms have no option to create offices at different locations due to the nature of their activity like farming, manufacturing etc.
Due to this, most offices for these industries are located in the cities. Offices are mostly located in the cities because of easy access to other facilities and reach of all persons.
Types of commercial office buildings
A commercial office building may be a single building or one or more storey buildings. Office buildings may be large or small.
Large office buildings are mostly tall buildings with several storeys. They are mostly used for offices for several corporations. Large office buildings are mostly given out on rental bases. A small office, on the other hand, is mostly found in small firms where only a few people up to ten may engage in clerical work.
Office buildings may also be classified into
private offices,
shared desks
and enterprise offices.
Private offices are mostly small and are normally used as small sole proprietorships or partnership businesses. With the shared desk, you rent a small space within a building to share an open area with other people in different fields of work. Your desk may just be a round table with your team. Lastly, an enterprise office is normally for large businesses.
With continuous growth in freelancing and creativity where people are capable of working anywhere anytime, there are different and modern ideas on office space coming up each day to satisfy the current demands.
Classifications of commercial office buildings in the UK
Classification of office spaces were drafted to help agents in real estate, investors, surveyors and all other stakeholders in the real estate industry. This is crucial in determining the prices of each office space. In the UK, there are three grades for offices thus Grade A, Grade B and Grade C.
This class of office provides the highest form of quality that can be obtained. These offices are mostly brand new buildings or have undergone extreme redevelopment with high-quality renovations. Grade A offices are properly managed and located at places with easy access.
These offices are generally seen in the cities where demand is very high. They are mostly found in high-storey buildings with high ceilings, enough space and a nice lobby. These kinds of offices are costly when purchasing but provide more rental income.
These kinds of offices are those that have been previously occupied or used but are in a condition to be reused. They are not of quality like the Grade A office space. Their spaces are considered to be average but can be used.
Grade B offices are classified because they are not located in cities thus mostly town estate. They might have not undergone renovation in recent years. It must be noted that some offices initially are classified as Grade A and downgraded to B after use for some time with no proper renovations.
This is the lowest form of office quality. These are offices that have been used for twenty years and over. They are mostly located in less desirable areas.
These buildings are poor aesthetically with outdated technology and lacking infrastructure. They provide the lowest price because of the state of the building hence targeted by small firms and developers.
A Grade C building may be upgraded to an A after some renovations but can never attain a Grade A status because of location and age. These factors can never change for a grade C office building.
These are some of the factors considered when classifying an office space. These elements are used when determining an office building's value. They include:
Property Location
Age of property
Easy access to property
Parking space
Elevators available and their speed
Safety and security
Design of structure
Amenities in the building or around
It must be noted that your classification is either A, B or C does not only affect the value of your property but also your rental income.
A lowly classed office space gives a low value and provides less rental income. The opposite is also true.
Characteristic of a standard commercial office building in the UK
In the UK, setting up an office space is guided by acts, rules and regulations. These laws guide people on how many persons must share a space as an office, security issues, fire outbreak drills etc. According to the Statista Research Department, an office property needs to satisfy these criteria; accessibility, good location, energy efficiency etc.
A standard commercial office in the UK must meet the following criteria or requirements. It must have the following:
Ergonomic furniture to help increase concentration and prevent stress and physical problems
Multipurpose spaces to handle any unexpected activity or meeting that comes up
Availability of technology in terms of the projector, flat screen and data connection installation
Environment that promotes collaboration. This can be done by setting up spaces and furniture that remove barriers or access to each other.
Use of open spaces. The office environment has changed and open spaces allow natural lights from the big windows and avoid distinguishing among the workers.
Rest areas for workers and customers who may be tired
Washrooms for both workers and customers
Decoration. How an office is decorated must conform to the aspirations of the business.
Safety mechanisms to ensure high protection of life in the event of any unforeseen negative occurrence.
Good lighting promotes work and ensures good eyesight.
Easy access to the building and a secured parking space for both workers and customers.
Offices after COVID-19 are changing in terms of design and legal arrangements, especially for small business owners. People are looking for several alternatives to conventional offices. Most people are looking at serviced or managed offices where there is more flexibility in shifting maintenance costs on the property owner. These kinds of offices allow the property owner to perform some functions like calls on your behalf and visit the premises when needed.
Prices of commercial office buildings in the UK
The Statista Research Department revealed in the fourth quarter of 2021 that Birmingham was leading with £39 monthly as the most expensive in terms of rent. Bristol and Edinburgh were next lines as the most expensive at that time. However, Central London led with the UK as the most expensive office centre in Europe.
Real estate in Europe has received its share of the effect of COVID-19. Investment activities in real estate in the UK and Europe have drastically reduced in 2022 as a result of the impact of COVID-19. COVID-19 has also affected and slowed several business activities leading to declining real estate leasing activity.
Below are the prices of office spaces in some cities in the UK from 2020 and 2021 in GBP per square foot per month.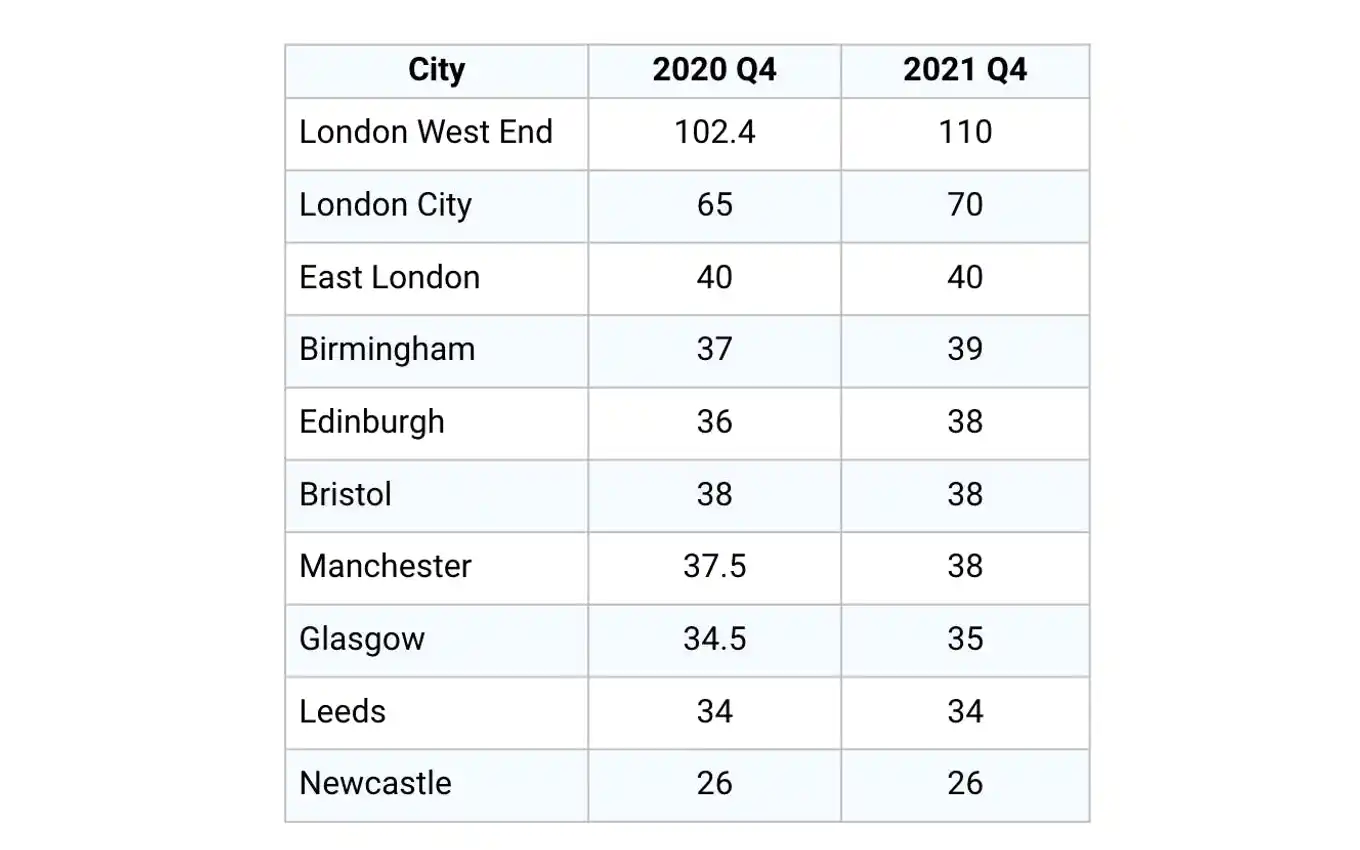 Source: Statista 2022
According to the local commercial property experts and rent reports, the cost of rent in the UK in the first quarter of 2022 is highest in London with a cost ranging £60 - £85. Other places like Birmingham, Cambridge, Oxford, Reading, Bristol, Manchester, and Brighton also recorded high costs in owning an office space compared to other cities.
Due to COVID-19, the office vacancy rates of cities in the UK increased in 2021 with Bristol leading (5.5% in 2021 from 2.6% in 2020 in the fourth quarter). West London was second with a 6.6% vacancy rate in 2021 from 4.9% in 2020 in the last quarter of both years. Almost all other cities saw an increase in the vacancy rate in 2021. This was a result of the COVID-19 pandemic.
How to determine the value of a commercial office building
We have already discussed the factors considered when determining the valuation cost of a commercial office building. This section highlights the methods or approaches to estimating the cost of a commercial office building.
This approach is used when calculating the value of several commercial properties. For an office property too, the office building value is arrived at by estimating the current value of the land and the estimated current cost of reproducing the office structure.
For example, land with a current valuation of £60,000 was purchased a few years ago at £25,000. On this land is an office building with a current value of £500,000.
The value of this office building is the sum of the current values of both the land and the building thus £500,000 + £60,000 = £560,000. Hence the value of the office building is £560,000.
This approach looks at the prices of similar office buildings in the area to determine the value of the office building. This can prove to be a difficult task as offices come with unique and distinct features. The prices of these similar buildings are considered when undertaking an office building valuation.
Data from the local office, private listings and rent reports will provide you with valuable information on similar properties.
Value per office area approach
For office buildings that host several offices in a form of flex, the value of the entire building can be reached by multiplying the estimated value of one office space and multiplying it by the number of office spaces. This valuation will also factor in the current cost of the land on which the structure is built.
From the example above if the building hosts five similar office areas, the value of each office space will be £560, 000 ÷ 5 = £ 112, 200.
This approach uses the capitalization rate. The income approach is used by discounting the future cash flows of a leased office building to obtain the present value. The discount rate can be obtained from the market or estimated however it is lower when you are sure of estimated future values.
For example, the estimated future rental annual earnings for five years are 10000, 11200, 12000, 13500 and 14000 respectively for an office building. Find the value of the building today if the rate of return is 10%.
By using the discounting factor the present value of the office building will be £45277 as shown in the table below.

Gross rent multiplier approach
This approach calculates the value of an office building by multiplying your rent per square foot by the number of available square areas usable. For example, if you price or rent a square foot at £32, your gross rent will be the square usable area multiplied by £32.
This gross rent is compared with other similar gross rents to obtain how much they are sold using the sale comparison approach.
Estimating the value of a commercial office building in the UK needs the import of professionals like a registered RICS because it is stressful, time-consuming and requires some level of knowledge and expertise to conduct a commercial office valuation. Some offices are high-rise buildings and therefore need experts to value them. The valuation cost of a commercial office building depends on the type of building.
For more information on commercial office buildings and their valuation contact us at RealAdvisor. We have the expertise to assist you in the value of any office you want to buy, sell or rent.
The following should be noted when determining the value of a commercial office building
Ways of determining the value of an office building include using the income approach, sales comparison approach, value per office area, income approach and gross rent multiplier approach.
Office buildings come in different types and classifications with a demand for more flexibility and modern designs.
The value of an office is dependent on its location, age and other specifications.
Some office building valuations demand the import of experts due to the size and other specifications of the building.